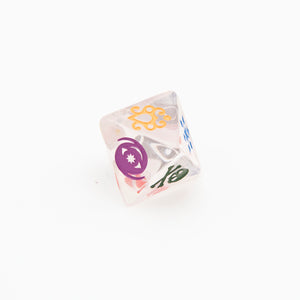 Product image 1
Product image 2
Product image 3
Regular price
$4.50
Unit price / per
tax included
Eight multicolored rays of light flash from your hand. Each ray is a different color and has a different power and purpose. For each target, roll a d8 to determine which color ray affects it. Which d8? This d8.
This is a d8 specifically designed to roll for Prismatic Spray. Each side corresponds with the color and symbol associated with one of the 8 outcomes.

If you need to print off a reference card, we've got one here for you.