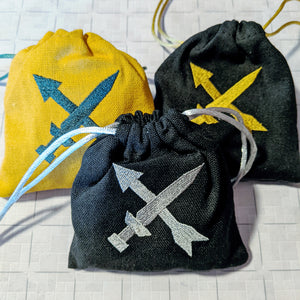 Product image 1
Product image 2
Product image 3
Product image 4
Product image 5
Piercing Damage - Acrylic
Base Set:
2d4
4d6
2d8
2d10
2d12
2d20
1 Embroidered bag
Polyhedral dice specifically designed and produced for rolling Piercing damage in Dungeons and Dragons Fifth Edition. The base set of 14 dice can be used as your main set, or as a stylish supplement. 
Available in three colorways: Black & Gold, Black & Silver or Gold & Green. Pick your favorite, or use 2–3 to roll your multi-attacks all at once and know which d20 goes with which damage die!
Here for Wall of Thorns, Animate Objects, or similar reasons? We got you—each die size is available in sets of 4 to stock up on just the dice you need.