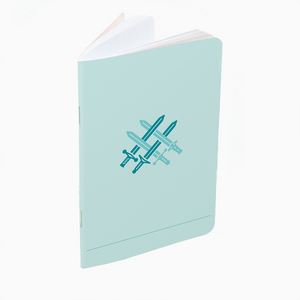 Product image 1
Product image 2
Product image 3
Product image 4
Product image 5
Valdani's Adventure Notebooks
Regular price
$19.99
Sale price
$24.00
Valdani's Notebook is small-format and fits easily in a pocket folder, card case, and saves on precious table space in-game. Quickly jot the barkeep's name, directions to the mine, and sketch out some runes. Where was that skittish halfling heading again? Named after Valdani, the Elf Ranger in our Tomb of Annihilation campaign, who takes comprehensive notes.
5-pack includes five different colors for easy identification with uncoated cover stock for labeling. Also available in single-color Gold or Green.

Each Adventure notebook is 3.875" x 5.5", 48-pages, line-ruled, printed in Cleveland, Ohio, and play-tested in Ann Arbor, MI.