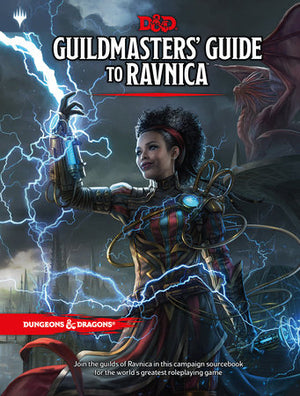 Dungeons & Dragons: Guildmaster's Guide to Ravnica
Regular price
$33.95
Sale price
$49.95
Play a member of your favorite guild as you explore all the mystery and adventure within the grand city of Ravnica.
In Guildmasters' Guide to Ravnica, the world's most popular roleplaying game meets the world's most popular trading card game. Released to coincide with the Magic set Guilds of Ravnica, it's the perfect blend of story from the creators of Magic: The Gathering, wrapped around the rules, monsters, and magic of fifth edition Dungeons & Dragons.
• Everything you need to create characters and run adventures in Ravnica—one of the richest, most beloved settings in Magic: The Gathering.
• 5 new races, specific to Ravnica, plus 2 new subclasses, 78 new monsters, and 17 new magic items.